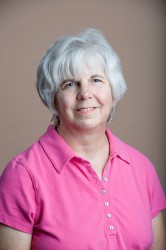 Dianne's Journey
As an active little girl always eager to keep up with my big brother, I was constantly in motion. I would run, jump and climb, feeling happy and free. Then came school. All of a sudden I was expected to sit still for hours and concentrate on reading, writing and memorizing facts. The task proved nearly impossible for me, especially after sitting for long periods of time.
From elementary school all the way through college, I always felt like I had to work harder than the other kids, reading information again and again just to comprehend it. I can still remember those hours, hunched over the dining room table, doing written assignments over and over again until I felt they were acceptable. Facts, especially figures had to be memorized over again before each exam. It was exhausting!
Eventually the stress of working so hard, and being so hard on myself, manifested in headaches. The headaches were followed by pain throughout my body and bouts of severe anxiety. After years of trying to "find myself" through different types of jobs and even more schooling, I was still lost and alone even though surrounded by my son, husband, extended family and friends. The pain and anxiety would subside each time with the excitement of something new only to return again once the newness wore off.
So I made the life-altering decision to uproot myself, change my entire environment and move across the country. There I joined a spiritual community that surrounded me with positive energy. Through them I was swept up into the healing community, experienced and was taught a variety of healing arts, starting with the calming energy of Reiki and then CranioSacral Therapy. I learned how to meditate and took long walks with my new friends. The tension in my body gradually relaxed, the pain subsided and I started to think more clearly. For the first time in my life, I was recognized as who I really was and that lead me on an amazing healing journey.
This journey of self-realization led me to discover some truly amazing, life-altering tools. Many of these tools ~ like CranioSacral Therapy, Reiki and massage ~ are so effective that I still use them today in my own life and with my clients. Through these modalities I expanded my awareness, finally discovering how to calm my inner nervousness and reclaim my life.
For the first time, I felt really productive and really grounded. The pain in my body subsided. I was able to interact with people differently and people accepted me because I was finally comfortable enough to be the real me, not just what other people wanted me to be.
Now I am passionate about helping other women suffering from migraines and overall body pain, feeling like they are fading away into the background of their own life, being overwhelmed and unable to get everything done. You can find that sense of ease, comfort and inner peace within yourself. After years of honing my skills as a healer, I now use the very same tools and strategies that allowed me to change my life so powerfully to help my clients do the same.
My whole life changed as a result of these tools, and the wisdom I gained working with them. And this can happen for you too. Because the truth is: You are perfect just as you are, even if you sometimes feel out of balance with the rest of the world.
When you contact me for a complimentary Freedom to Be Who You're Meant to Be Discovery Session, I'll show you how I can help you use the proven tools and techniques I used in my own life so that you can finally step into your power. Imagine, finally being rid of the migraines, ending the sleepless nights, and ditching the anxiety and the inability to concentrate so that you can enjoy a full and active life again.
If you're ready to be at peace in your body and successful in your life, schedule a complementary 30 minute session today.